McCain's Unfiltered Blog
BY Ari Melber | Monday, March 3 2008
Barack Obama may be the hottest politician online, but when it comes to unfiltered Internet commentary, nobody beats John McCain.
While McCain's Internet audience lags far behind both Obama and Clinton, his official websites allow more dissent and tough feedback than the Democratic candidates, according to an unscientific comment experiment conducted by The Nation. We posted about 50 comments on the candidates' websites and YouTube accounts, ranging from bland encouragement to policy criticism to sharp complaints. Only the McCain Campaign posted every comment.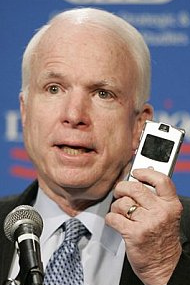 McCain's website had no problem with this feedback, for example:
Doesn't understand how to save workers from losing their livelihoods to globalization—I don't care what he says!

Meanwhile, both Democratic candidates rebuffed the same comment.

Team Obama took it down, posting a disclaimer that the comment was removed "due to offensive or disrespectful content." And the Clinton Campaign never allowed it to be posted in the first place.

In fact, comments were repeatedly prevented from posting on Clinton's sites, even when they were positive. On YouTube, a plea for tougher immigration measures was rejected three times. Clinton's homepage declined to post a comment claiming her health care plan would not "cover all Americans." The McCain and Obama sites accepted the same comment, drawing several rebuttals from supportive commenters. On Obama's site, five replies defended the health care plan on policy terms, while one person admonished the poster for spreading "Hillary talking points."

The Clinton Campaign's comment editing is most apparent on a trivial item, the gag music video Hillary and The Band. Despite drawing about 400,000 views on YouTube, the video displays only 79 comments -- all effusive. But over 2,200 people panned the video with low "star ratings," a metric that YouTube does not allow users to manipulate. The lopsided feedback suggests that the campaign rejected hundreds of negative comments.

Meanwhile, McCain's comment threads were most likely to turn critical. The negative comments may not only reflect the campaign's unfiltered format, but also the Senator's touchy relationship with party activists, who often dominate discussion on campaign sites. Either way, McCain deserves credit for letting the "straight talk" flow in both directions.

--

With research by Susannah Vila.
Photo Credit: John McCain discusses technology in an April 2007 address. Napalmnews Flickr.

Originally posted at The Nation..