No Bounce for McCain?
BY Ari Melber | Monday, February 18 2008
John McCain may be the presumptive Republican presidential nominee, with a huge delegate lead and backing from both Bush Sr. and Jr., but his success has failed to produce any bounce online. McCain's website traffic, which is crucial for raising money and harvesting contact information from new supporters, still lags far behind both Barack Obama and Hillary Clinton. Here are recent figures from Alexa.com: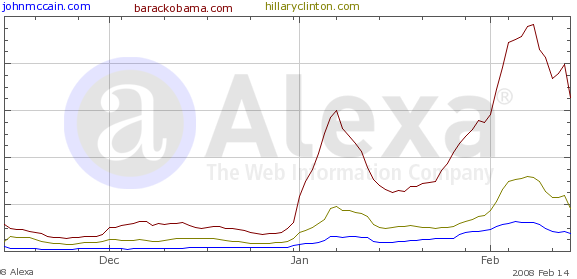 While Obama generated strong online interest from supporters and donors for months, his website drew the most visitors as his campaign gathered momentum in the run-up to Super Tuesday. In contrast, McCain's recent surge has not translated to any greater interest online.
"I wouldn't expect any bump in online traffic or activity for McCain. He won the nomination on the backs of moderates and independents. Moderates and independents don't spend any time online obsessing about politics," explained Conn Carroll, a blogger for The Heritage Foundation, a conservative non-partisan think tank. Carroll, who tracked web politics for The Hotline's blogometer, contrasted McCain's web drought to Ron Paul, the libertarian long tail candidate who raised tons of money online but never built a large coalition.
Some candidates do draw more enthusiasm online than at the voting booth, but the lack of any web bounce at all for McCain is just weird. (The McCain Campaign did not reply to a request for comment.) His 2000 campaign adroitly used the web for organizing, and was rewarded with impressive backing at the time, including 86,000 registered web supporters. After he won that year's New Hampshire primary, he downloaded $2.2 million in a week -- a record at the time. And two out of five of those donors were first-timers. As The Chicago Tribune reported in February 2000:
Thursday night marked another milestone in presidential campaign history when McCain held what is believed to be the first presidential campaign political fundraiser entirely on the Internet. McCain, campaigning in South Carolina, spoke in Washington and 17 other places via satellite. And 500 people paid $100 each to chat with him over the Internet. The candidate appeared on video from Charleston, answering questions on the environment and Internet taxes. "It's going to change politics in America," McCain said of the Internet. McCain's innovative use of the Internet could rewrite some of the rules of American politics. At the very least, the Internet may become some campaigns' main method of raising money...
As an underdog candidate, McCain saw the Internet's potential before most politicians in either party. For 2008, he even tapped one of Howard Dean's former web gurus to run online outreach. (That political marriage didn't last long.) The Internet is changing politics in America, as McCain predicted, but it just might leave him in the dust.