An Open, Mobile Dial Test for the State of the Union
BY Nick Judd | Friday, January 21 2011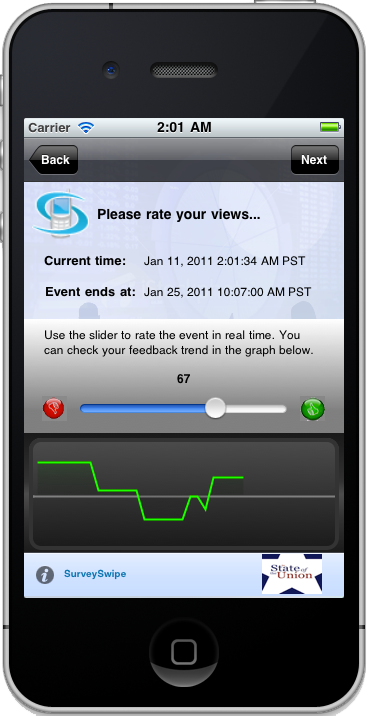 President Barack Obama's second State of the Union address will, as with every major presidential speech for the last three years, be immediately followed by a throng of pundits and experts appearing on cable TV to tell Americans what they thought of Obama's remarks.
There will be polls, certainly, but many of them will most likely be shaped to represent the desired outcomes of the organizations that sponsored them.
In 2011, people don't have to rely on polls with small sample sizes or skewed statistical models to tell them how their neighbors and countrymen across the country responded to the president's words. They can do it themselves — or, anyway, they should be able to.
In that spirit, Personal Democracy Forum is putting the word out about a new dial test for the State of the Union, produced by the people behind IdeaScale, that will be available for iPhone users. Download the app, put in the demographic data you're comfortable sharing, and, when the speech happens on Jan. 25, indicate your reactions by moving a slider on your iPhone.
Dial testing will not be available on Android or BlackBerry phones, but people who download the app for those platforms may be prompted with individual poll questions to answer during the event.
While progressive groups Netroots Nation and ProgressiveCongress.org have also signed on to this project, the app is open to anyone — meaning that Republican and right-leaning Americans could also participate and make sure their opinions are heard. Netroots and ProgressiveCongress.org staffers, though, will have the ability to send questions to people who download the app through their landing pages, according to SurveySwipe and IdeaScale founder Vivek Bhaskaran, who is leading development of the application with co-founder Rob Hoehn.
The SurveySwipe team has promised to release the anonymized survey data under the Creative Commons Attribution License.
We got involved in this project because the promise here is to create a data platform that academics, researchers and data-viz wizards can use to launch new explanations of American political opinion. It's a bold experiment, in the spirit of the online dial test that MoveOn.org did with its members for the last State of the Union.
More information, including privacy policy and opt-out details, is here.